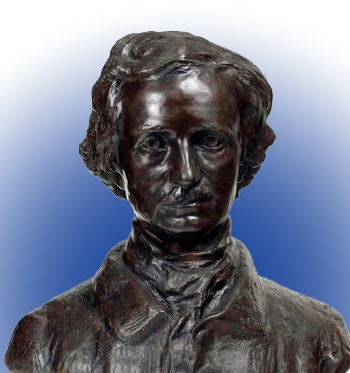 The Writer, the Man and Evermore; this is the subtitle given to Charles McGrath's article about the newly opened (yesterday), exhibit celebrating the work of author Edgar Allan Poe. Of course I am excited by this news, having worked on Poe's biography these past six years, with the purpose of creating a low budget animated feature. Poe led a very difficult life completely impoverished with almost all the women in his lifetime dying during on him - his wife, much younger than he, died of Tuberculosis. His mother also died of TB when Poe was just 3 yrs old. He was left an orphan of the State and was given to Thomas Allan and wife as surrogate parents. They abandoned Poe during his college years and he spent much of the rest of his life searching for funds to write. He lived with his aunt and married his cousin 27 years his younger. It was assumed they were more a brother-sister relationship rather than husband-wife. Since all three were inches away from pure penury, it made sense for them to live together with his acting as the family support. And, indeed, it was much of the writing that did give them financial aid. Several times he attempted to start a literary magazine, but was more often likely to be writing for one. Graham's Reader was one such paper for which he wrote some strong material, including The Murders in the Rue Morgue.

Presumably, according to Mr. McGrath a lot of manuscripts, letters, and the life are on display. Given the extensive work that several other organizations have done, it's helpful to have this material preserved for public consumption. (I keep promising to get myself to the Poe House up in the Bronx but I've missed that train for too often to not feel the guilt of my actions.) We have in the script for the feature a short sequence wherein two well know ladies - friends of the Poes - visit. They play some sort of early football in the yard only to end when Edgar's shoe completely dissolves after smashing the ball. Since he had no other shoes, the guests chipped in to buy him a new pair.

Please, don't mind me. I've gotten so addicted to Edgar Allan Poe's work that I have a hard time not talking about it. I thnk, in some ways, I see a lot of similarities in our lives. That money thing was always the patch blocking the middle of the road. I need a lot more than he did to get my "art" going, but in the end it ma as well be the same thing.

I also recognize that unwittingly I have the same sense of arrogance about mine own artform. I so fussy about wanting what I want that I can be hard to put up with after screenings. I'll tell you after seeing "Tangled" I was hard to live with. I hated the film and was upset with all those who'd worked on it. It was stupid; I'd seen a lot worse and even enjoyed a lot worse. I just couldn't deal with those lead characters and, though I liked the horse, I couldn't help but see Prince Phillip's horse (Milt Kahl's character in Sleeping Beauty) in cg. It just never made the grade for me.

Boy, am I looking forward to the day when I can give my full support to that POE film. It really will be some kind of adult film, but today, I can only visit the art exhibit planted so nearby my own home. Even that's a pricey affair, so getting in to see it will take some financial maneuvering. But I wouldn't miss it.
This date was too wonderful a number to pass up. I had to write something about Edgar before the date went by.
At one point I thought of making the animated film a musical - a different kind of musical. Poe's wife was a singer, and he even wrote two songs for her. One exists, today, and we have a copy of it. (It'll be sung in the film.) Poe's wife had enormous problems with nodes on her throat, toward the end of her life. She went from being ill to dying of pneumonia. Edgar sat helpless because he didn't even have the proper money to pay for a doctor or the courage to face his situation. His way was to hide in the next room and see as little of his wife as possible while she died under the care of her mother, who lived with them.
His companion became a pet cat that sat on the back of his neck while he wrote. He, Edgar, became an alcoholic during this very short period. Most alcohol was poisonous at the time, so it didn't take much. When his wife died he gave up the spirits. In that other room, with a cat on his neck, he wrote the story, "The Black Cat" about an alcoholic who accidentally kills his wife while tring to kill a strange cat in the house. In short, he was writing about himself.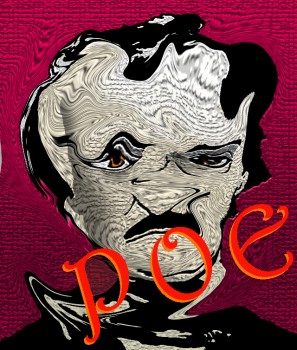 He's Alive!
I thought I'd make the small announcement to say that POE's alive. Having completed my presentation for HBO, I've put all energies back into completing the opening and trailer for my li'l feature. The brilliantly talented, Matt Clinton is back with us working on the sequence, and we hope to be able to go directly into production once that trailer is done.

We still have a couple of storyboards to work and another couple to rework. With that we'll complete an animatic of the whole. It's going to be a fun ride, and I'm glad to be back with Matt on board.

By the way, the artwork at top is sort of a new logo for the film.
THis lithograph was published with the monograph,
"The Raven and Other poems."
The iPoe was just announced as a brand new product bringing the stories of Edgar Allan Poe to the iPad.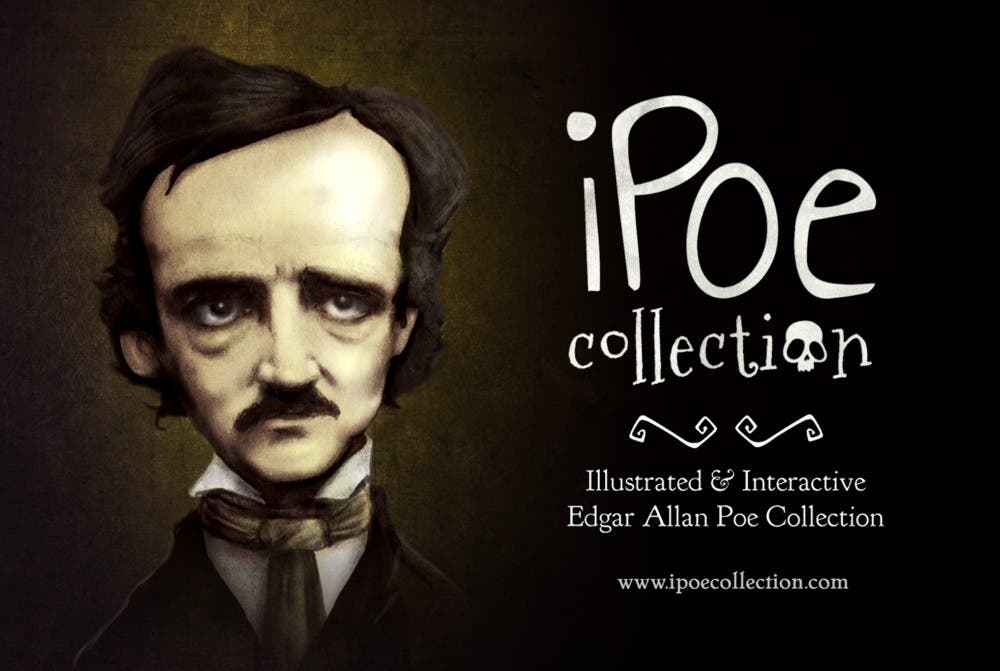 The online ad reads:
Fully illustrated by David Garcia Forés.
Interactive elements and animations that bring the stories to life.
Original soundtrack created by Teo Grimalt.
Texts in 3 languages​​: English, Spanish and French.
Universal App, buy once and enjoy wherever you want.
Includes Edgar Allan Poe's biography.
We have some competition. It isn't hard to beat this, though.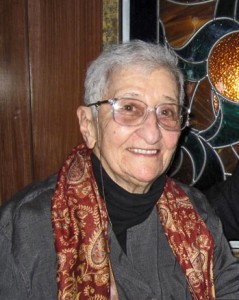 Tissa David died last night.
In the past month, it was discovered that Tissa had a tumor which formed
on her brain and was growing rapidly. She went home from the hospital,
rather than experience a difficult operation, which she, at the age of 91,
wouldn't survive. It would be better to go out gracefully.
I visited her several times a week, if I could. Our conversations amounted
to my being as cheerful as possible remembering as much as I could and
discussing old friends and good times. I tried to sound as gossipy as I could,
and Tissa enjoyed that. We also talked about animation: the mechanics of
animation and different styles of animation. Her memory was clear as long
as I was talking. When she tried to answer a question, the memory didn't
work, and Tissa would just say, "I don't know. I don't know."
Always part of our conversations was a discussion of POE, where it was and
what was going on. Lately, I've been talking about the trailer/introduction
which I am currently animating and pre-paring for final production. She enjoyed
my saying that it was an absolute delight to be working on it, and she looked
forward to seeing what I was doing.
I Last night, while I was out, her good friend and caretaker, Susan Davis,
called leaving a message for me to return her call to Tissa's apartment.
I had intended to visit Tissa again today, Wednesday.
Tissa died yesterday evening, August 21st, in her Manhattan apartment at 7:35PM.
Of course, Tissa had single-handedly prepared the animatic of the bio section of
the film. We are about to start inbetweening what shehas done to see how it
works as animation. Certainly, I am aware that significant changes will have to be
done to it, but the meat is still on the bone.

I look forward to assisting Tissa yet one more time.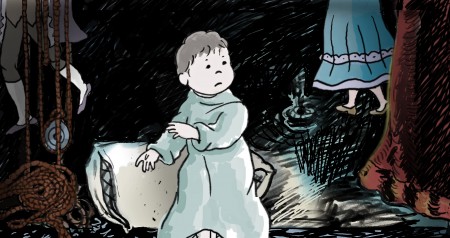 - I've been going crazy (a good thing, I think) animating and reanimating and
reanimating a scene from the opening sequence for POE.
It's taken a while, but I think I've finally gotten something of a style for the film
which will enable me to incorporate all that the brilliant animator, Tissa David has
done with new work from lesser animators and artists. In all honesty, the color
styling and photography of the  poor film I saw this week, The Awakening, led
me to it. That film was bad enough, but my mind was completely overwhelmed
with thoughts of the work I was doing at home.
Thank you Motion Picture Academy for getting me to that film, thank you Tissa
for being so brilliant, thank you Daumier for all the artistic inspiration, and, especially,
thank you all you investors at Indiegogo for making it possible for me to work on
this opening/trailer. I'm having the time of my life.
Here's something found on line today. It documents all of the addresses Poe lived at
while living in New York City.

The New York Landmarks Conservancy
Edgar Allan Poe and the landmark Poe Cottage. Poe Park, 2640 Grand Concourse
(c.1812), designated in 1966.

The famous American author and poet lived in many New York City places:
1837: Sixth Avenue and Waverly Place
1837: 113 ½ Carmine Street
1844: 130 Greenwich Street
1844: West 84th St., & Amsterdam Avenue
1845: 154 Greenwich Street
1845: 195 E. Broadway
1845: 85 Amity St. (W. Third St.)
1846: East 47th Street

And finally, from 1846-1849 he lived in the Bronx at Poe Cottage. It was here that
Poe wrote "Annabel Lee" and The Bells." He died in 1849 and the house was slated
for demolition many years later, but a public outcry led to its preservation in 1902.
In 1913 this shrine was moved across the street to its present location. Poe Cottage
plays an important role in history, as it is the only place left in New York where Poe lived.

The Cottage is now on the National Register of Historic Places and is a New York City
Landmark. It is owned by the NYC Department of Parks & Recreation, and is in the
collection of the Historic House Trust with The Bronx County Historical Society
operating it as a museum.

Poe Cottage won a Lucy G. Moses Preservation Award this year for some amazing
restoration work and has future plans to complete a Visitor's Center and a redesign
of the landscape.
There's a certain difficulty in making a film about 1820-1850 as opposed to making it about 1850-1880. Things, in the New World, were being invented and didn't look like any other eras. I suppose this is true about any era; there are always complications. New York City, for example, changed drastically in 1888, February 1888. Before that date the sky in the City was a mass of wires. One could barely see the sky for all the wires that were strung across the terrain. However, in February of 1888, there was a violent snow storm that knocked down all the wires, and that was the excuse the City used for burying the wires underground. So after
February of 1888, the sky was wide open, and the City had a major face lift.
Well, the same was true of the props of the early part of the 19th Century. The first railroad train, for example, was engineered by Peter Cooper in 1929 and stretched from Baltimore to the village of Ellicott's Mills thirteen miles west. The train, called the Tom Thumb, was modeled after a British locomotive. Since Poe did a lot of traveling throughout his life, it was obvious to recreate such a vehicle and have our hero ride the rail with an imagined orangutan (an animal that had just been discovered, and was seen to be the "missing link" they were searching for.) Poe, of course, was aware of this news story, and incorporated an orangutan in the story, Murder in the Rue Morgue.

But we did have to do some specific research for the train. We didn't want something as early as the "Tom Thumb" but we did want something a few years later.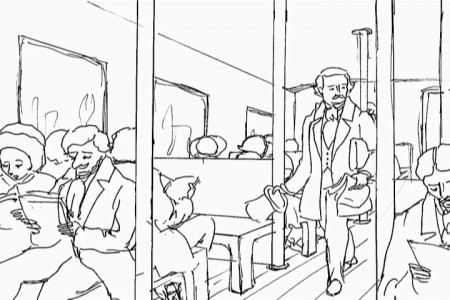 Boarding the train.
It was also as likely for Poe to have traveled from New York to Maryland via many different other means of transportation. No doubt, part of the trip would be made via some short-distanced local ferry. After all, it would have been faster to move over a body of water than over the land. In his lifetime, Poe lived in New York, Philadelphia, Baltimore, and Boston. To get from one place to another meant some significant travel as well as time and money. Edgar, Muddy (his Aunt/Mother-in-Law) and Virginia (his
young wife) had to negotiate meticulous plans to travel. He wanted the least expensive route and the shortest time. Carriage, rail, horseback and ferry were the only real options for them.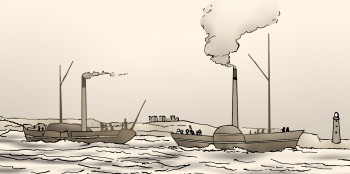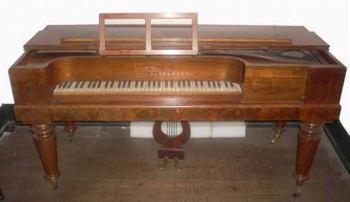 We also have a song in the show. Virginia was a singer. She died of complications after a blood vessel ruptured in her throat. There are songs that Edgar Allan Poe wrote for Virginia and his sister, Rosalie, and in the film, we have Virginia singing one of those songs. Obviously, we had to know what kind of piano they would have had in their home - their poor, little home.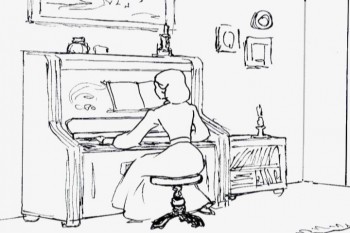 Pictured above is a photo of Rosalie's piano gifted to Poe Cottage after her death in 1865. We imagined Virginia's piano to be slightly different.
The good fortune that we do have is that Poe Cottage still stands as a tiny museum in the Fordham section of the Bronx. I grew up only a mile or two away from it, and I've passed it hundreds of times. Interestingly, I still haven't visited it, though I certainly will before the film actually starts production. In fact, I expect to have a studio trip so we can all take it in together.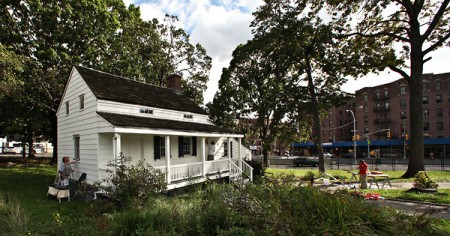 Poe Cottage in the Bronx.
There's also the more elaborate Poe House down in Baltimore. Many artifacts decorate the house, and many of these were in Poe's possession.
- One of the features of the film we're doing about Edgar Allan Poe is that it provides us with the opportunity of including a number of letters from acquaintances of the little Poe family. One I particularly enjoy is this letter from Mrs. Gove Nichols. In it she tells of the arduous journey to reach the family in the Fordham section of the Bronx. It took several hours for the trip from midtown NY (and would take about 30 mins. today by subway.)
Here are several short excerpts from that letter: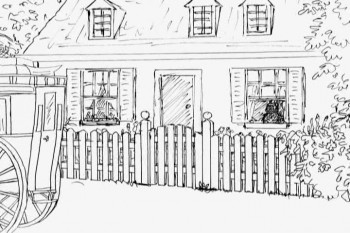 We found him, and his wife, and his wife's mother who was his aunt living in a little cottage at the top of a hill.

The house had three rooms - a kitchen, a sitting room, and a bed chamber over the sitting-room. There was a piazza in front of the house that was a lovely place to sit in the summer, with the shade of cherry-trees before it.

On the occasion of my first visit, the poet had somehow caught a full-grown bob-o-link. He had put him in a cage, which he had hung on a nail driven into the trunk of a cherry-tree….

The cottage had an air of gentility that must have been lent to it by the presence of its inmates. So neat, so poor, so unfurnished, and yet so charming a dwelling I never saw. The floor of the kitchen was white as wheaten flour. A table, a chair, and a little stove it contained seemed to furnish it completely.
Later it continues:
He was at this time greatly depressed. Their extreme poverty, the sickness of his wife, and his own inability to write sufficiently accounted for this. We spent half an hour in the house, when some more company came, which included ladies, and then we all went to walk.

. . . someone proposed a game at leaping. I think it must have been Poe, as he was expert in the exercise. Two or three gentlemen agreed to leap with him, and though one of them was tall and had been a hunter in times past, Poe still distanced them all. But alas! his gaiters, long worn and carefully kept, were both burst in the grand leap that made him victor. … I was certain he had no other shoes, boots, or gaiters. Who amongst us could offer him money to buy a new pair?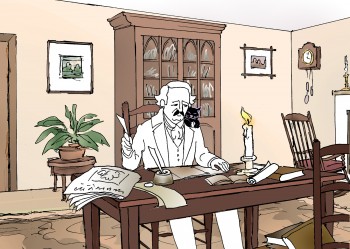 Eventually, Poe's mother-in-law convinces one of the guest to buy a poem he'd written for publication. This gives them enough money to purchase a new pair of shoes for Poe.
There's so much material in this man's life, it's almost hard to eliminate some of it without making too long a film. Of course with Poe's name, you also have to keep the film thrilling. Hopefully, it'll have all this.
Three Women
Edgar Allan Poe had two great loves in his life. The first woman, Elmira, was engaged to marry him when he was a student at the University of Virginia. She ultimately sent him a "Dear John" letter when her parents forbade her to marry someone whose station in life was lower than hers.
Shortly thereafter he'd been forced to leave the University for lack of funds. His stepfather, John Allan, refused to give him more money, and Poe left the school penniless.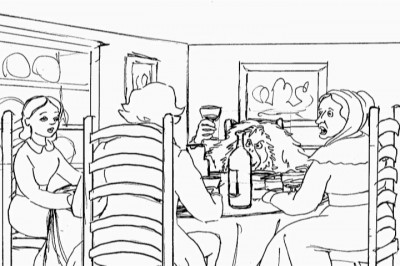 He soon learned that his Aunt in Virginia had also been evicted from their home with her 13 year old daughter, Poe's cousin, Virginia. Edgar suggested that the three of them share an apartment and thus make it easier to finance their living quarters. To do so, and to not be scrutinized by society, Poe married Virginia, his 13 year old cousin. It would have been scandalous had he not. He immediately fell in love with her and saw her as the love of his life. Most Poe historians believe, however, that they did not consummate their marriage. A singer, Virginia ultimately died, at the age of 21, after a vocal problem led to pneumonia. Her illness stretched ot for a long time because they did not have money to care for her properly. This led to some difficulties for Poe, and it's when he did turn to alcohol. However, he gave it up after his wife's death and stayed sober the rest of his life. Virginia was the Annabel Lee of the famous poem he'd written for her postmortem.
Several years later, he learned that his original love, Elmira, had recently been left a widow when her husband had died. Poe and Elmira reunited and were engaged to marry when he suffered the curiously peculiar death that he did.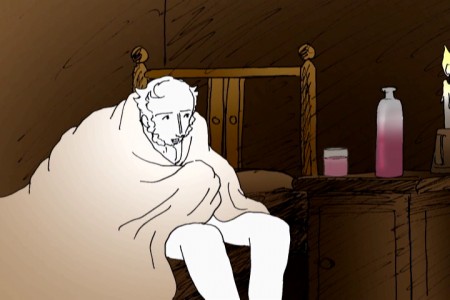 It's my thesis, in the film we're trying to finance, that Poe's problem was not alcohol or drugs (this was only a rumor started by his biographer, Rufus Wilmot Griswold). The real difficulty throughout Poe's life was poverty. He did everything possible to resolve this, but did not succeed, even unto his death at age 40. On the very day of his death he was to travel to Philadelphia (he'd just bought the tickets) where he was to meet Muddy, his Aunt. He was to start a new literary journal, and they were meeting to obtain financing that she had arranged. Something happened before he got onto the train, and he was found delirious, in a near coma, outside a tavern, wearing someone else's clothes. He was placed in a pauper's hospital and died three days later.
Indiegogo is the site we're using to try to raise capital to help us finance a trailer for the film in the final style of the movie. This will help sales. We're within inches of a sale to a cable station for the US Broadcast (for relatively little money) which will hopefully give us traction to make other sales. Perhaps we'll have the information. Come hell or high water, I'm going to see this film finished.
If you can take a look at the Indiegogo site and leave a comment of support, even if you can't donate any money. That alone will give encouragement for us to go on. And tell your friends, especially those you think can contribute $5 or more.
<<

Start

<

Prev

1

2 3 4 5 Next > End >>


Page 1 of 5